History
In 1898, Carl Hagenauer (1872¬1928) founded his workshop in Siebensterngasse and Zieglergasse in the 7th district of Vienna. He specialised in metal objects in the contemporary naturalistic style. Carl had served his apprenticeship initially at Würbel & Czokally -Vienna gold and silversmiths - and then under the master goldsmith Bernauer Samu in Bratislava.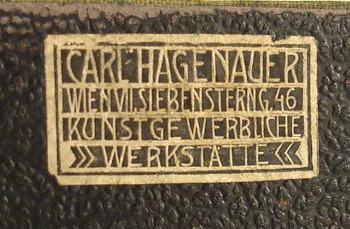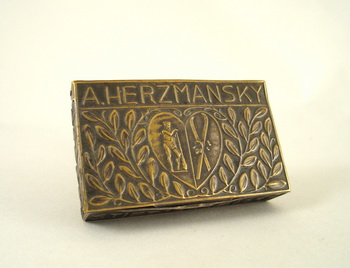 Carl Hagenauer was an award-winning designer and craftsman and his workshop was a success in its early years. By the end of the First World War, the workshop was in bad shape. Carl was in semi-retirement and production was at a minimum. Karl (1898-1956), the elder of his two sons, joined his father's workshop at age 20 on return from war service. Soon he was responsible for the production process. This involved the creation of designs, selection of materials and quality control, administration-leadership and staff organisation- and sales management.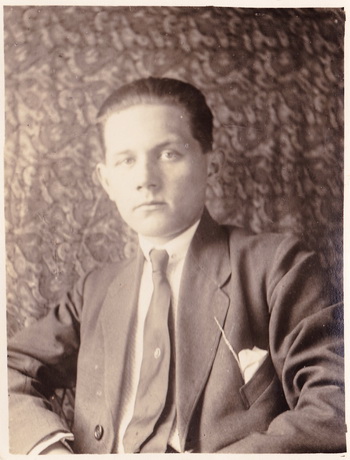 Karl had more modern design ideas than his father and he changed the style of the Hagenauer workshop significantly. The Jugendstil and Art Deco movements had reached their peak in Vienna in the 1920s with the works of the Wiener Werkstätte and its most famous artists Josef Hoffmann (1870-1956) and Dagobert Peche (1887-1923) They were strong influences on the WHW designs of this period.
The comical and surrealistic elements of most of the Hagenauer figures, especially the small whimsical animals made Hagenauer unique. Karl designed lamps, candelabras, trays, bookends, hood ornaments and ashtrays with his characteristic ornamentation, comparable with the masterworks of the Wiener Werkstätte.
A very important document of this time is the (recently reissued) workshop catalogue from 1928. Almost all illustrated items in this register are Karl's designs. His Hagenauer style became popular around the world, winning awards at national and international fairs and exhibitions, five awarded by 1927.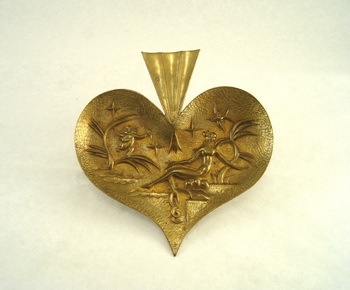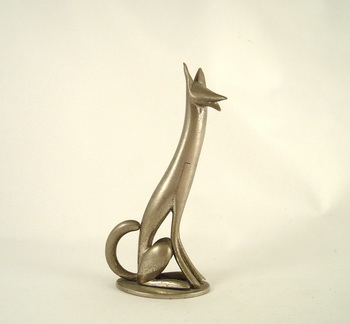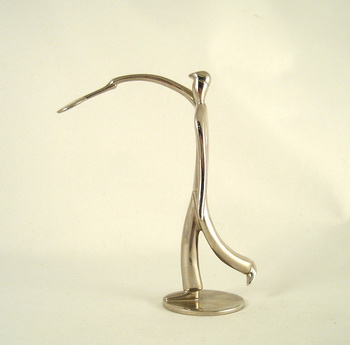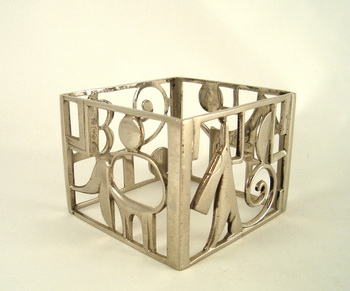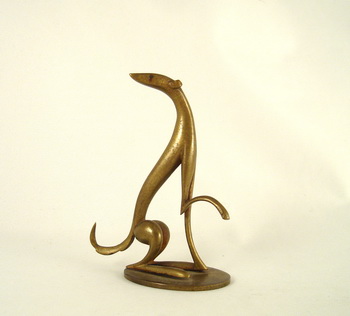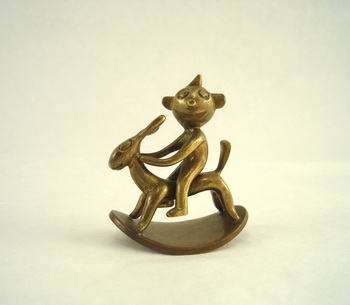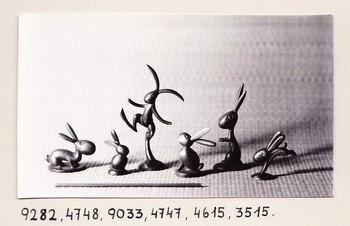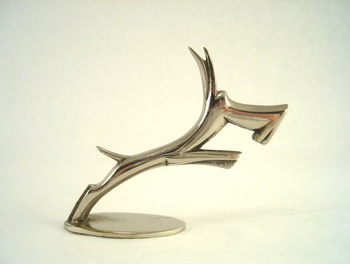 In the 1930s, the designs became even more stylised though earlier designs continued in great demand. The product range was expanded to include larger decorative objects such as horses and busts, while new materials and methods were introduced. In the first decade of Karl's leadership, the principal material used was brass with a polished or nickel-plated finish. The workshop started to use wood, in most cases combined with brass. The figurine of Josephine Baker, made of a brass body combined with a wooden dress is a beautiful example.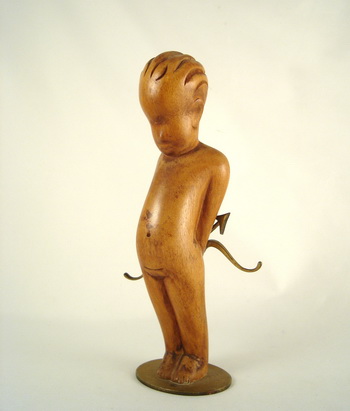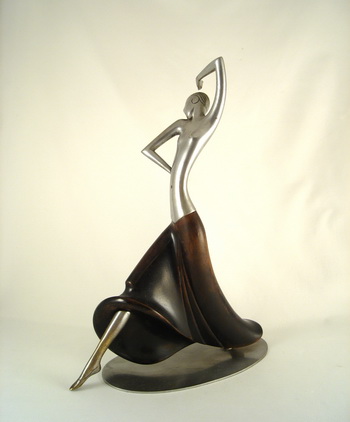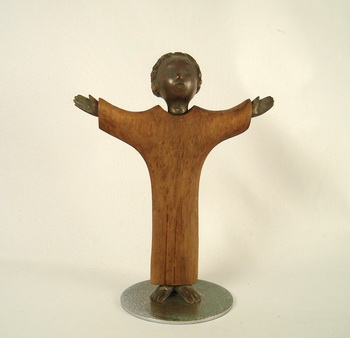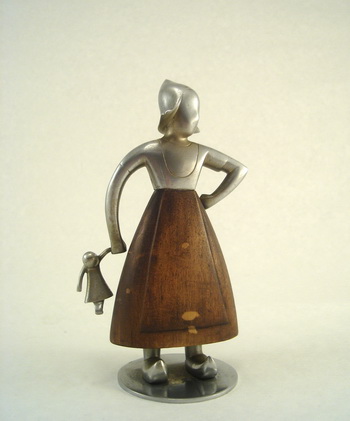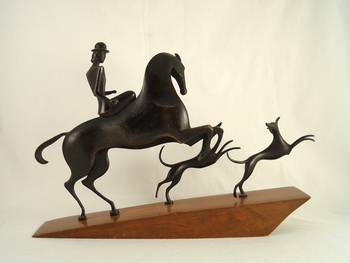 In the 1920s and 1930s almost all objects were designed by Karl. His younger brother Franz (1906-1986), finding limited success in a writing career, increased his time commitment in the workshop. The designs of the two brothers were executed by highly skilled metal craftsmen and, starting in the 1930s, woodworkers. In these decades labour was relatively
cheap and all production steps were executed by hand. With the help of a wax model, a metal model was made according to the design drawings. This model was used to create the negatives in a sand casting. The results were brass castings that needed to be chiselled and polished. The finished castings were nickel plated or patinated and/or combined with wood or mounted on a brass or wooden base. It was likely in the late 1930s that Franz Hagenauer designed his first large bust made of hammered brass. It would take three more decades for these progressive abstract works to achieve recognition on the art market.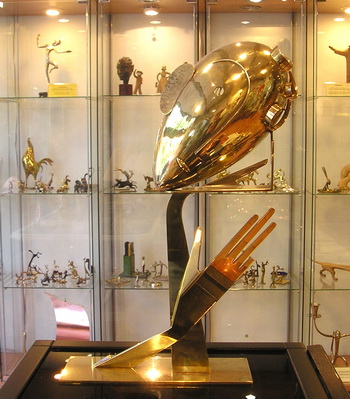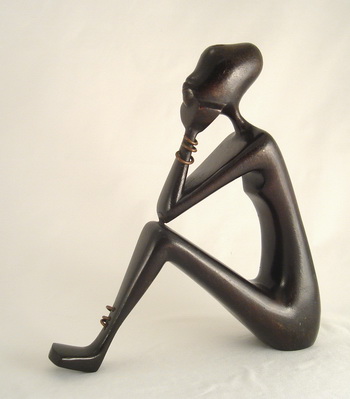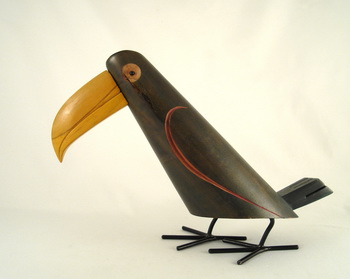 In 40 years the workshop existed without its own retail store, selling to retailers in Austria and abroad. A very good customer was a tobacconist in the inner city of Vienna, where people could buy Hagenauer lighters, trays, pipe holders or cigarette extinguishers. In the 1920s a large part of the output went to foreign dealers, especially in the USA. The 1928 catalogue is priced in USA dollars.
Karl exhibited his products at international fairs and voyaged to America to visit two prestigious dealers: Rena Rosenthal (1880-1966) owned an exclusive store in Manhattan while John Wanamaker (1838-1922), pioneer of the department store concept, had major Philadelphia and New York stores.
The scale of exports to the USA between 1920 and 1938 is obvious today with so many early Hagenauer objects in American estate sales and antique shops as well as in the Museum of Modern Art's collection in New York.
In the aftermath of World War II, the void created by the pulverising of cities resulted in a massive program of reconstruction and a great demand for household goods. In response, the Hagenauer workshop started producing trays, bowls, coffee and tea sets and wooden furniture. Franz Hagenauer (1906-1986), the younger son of founder Carl Hagenauer (1872-1928) convinced his older brother Karl (1898-1956) to open a branch on Salzburg's Mirabellplatz and a second workshop at Lake Fuschl that specialised in turned wooden objects.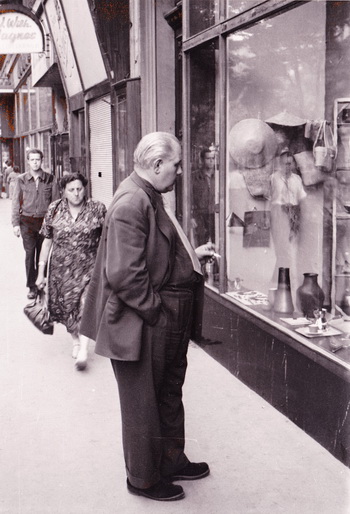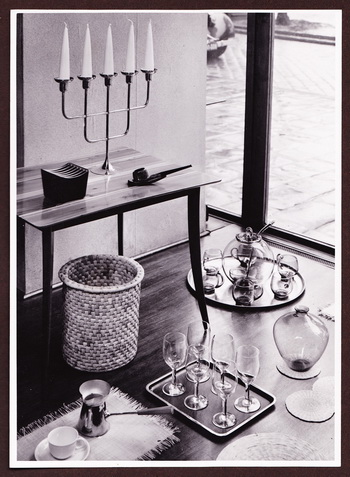 Before 1940, brass pieces were either polished or nickel plated and very rare pieces were enamelled. In the late 1940s Hagenauer introduced the new technique for patination of brass. The brass objects were 'cooked' for a few minutes in a mixture of chemicals that caused oxidation on the surface. Depending on its duration, the finish changed to brown through to deep black. Some of the designs were later polished in a few places, for the brass to shine through. This procedure created a new design element, allowing two colours on the same object. Karl Hagenauer introduced this technique at a Viennese fair, but within months it was copied by other manufacturers of brass figures.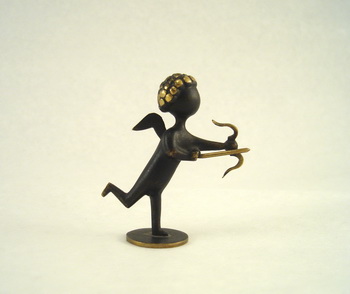 Exotic themes became very popular with Austrian artists in the 1950s, while their clients were attracted to depictions of wildlife, harmony with nature and beautiful landscapes. In the Workshop Hagenauer, objects depicting native people and animals in America or Africa were popular additions to the product range of decorative figures as well as functional objects such as corkscrews and bottle openers, bowls, trays and furniture.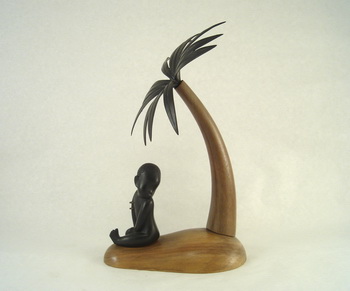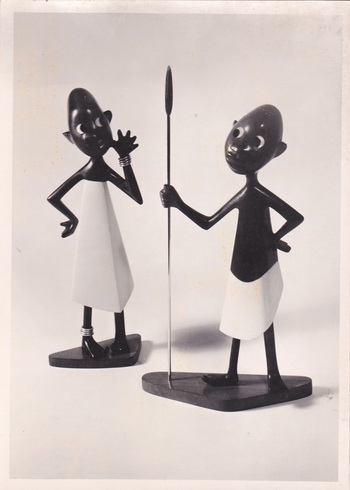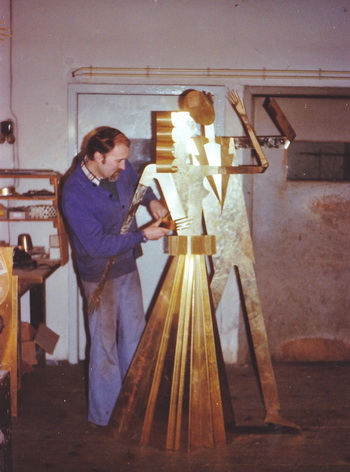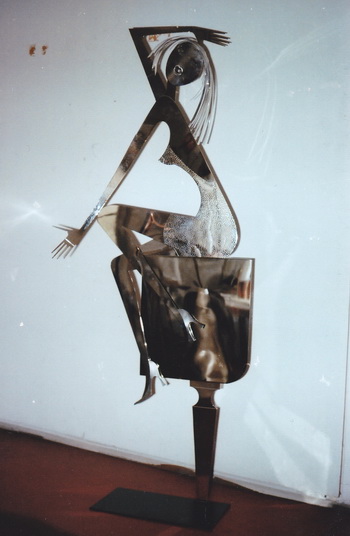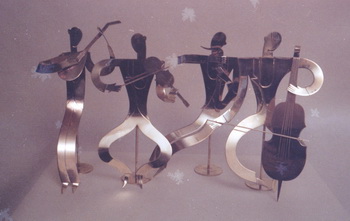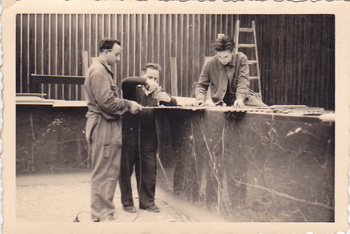 Karl, feeling the burden of responsibility, worked long hours and used his brief leisure time to create new designs. The pressure was too great and in 1956, aged 57, he died of a heart attack. Franz accepted leadership of the company and became principle designer of decorative objects. Architect Julius Jirasek designed some furniture at this time.
During the 1960s and 1970s, the workshop reproduced popular old designs as well as making Franz's more modern designs that were frequently produced for international art dealers such as busts of hammered brass. The workshop made custom metal fittings, amongst the large metal eagle in the main hall of the Austrian Parliament. Countless buildings were supplied with simple metal parts like door handles, ashtrays, wooden chairs and tables. These contracts were an increasingly important source of revenue.
Following Karl's death the company divided. The sales room at Opernring 21 became a furniture store combined with an architecture office under the control of Karl's son, Karl Jr. In Bernardgasse, Franz continued producing designs, taking many contracts to keep the company profitable, though the 1960-1985 output was lower than in earlier decades. Franz taught metalwork at the University of Applied Arts and gained recognition as a designer in Austria and abroad. Upon Franz's death in 1986 former work master Karl Schmidt took over briefly. But without agreement with Franz's heirs on a contract, the workshop closed in 1987.
Unfortunately, in the confusion, many of the records, pattern books, catalogues, sample pieces, negatives, casting models and the inventory of nine decades were lost. Rena Rosenthal, Richard Rohac and RR maker's mark It is impossible to estimate how many Hagenauer objects were distributed through Rena Rosenthal's shop in New York, with the usual markings Hagenauer Wien, wHw and Made in Austria. Only a few were also marked RENA, making them very rare. Remember, objects bearing Richard Rohac's mark, the mirror-image RR surrounded by a square, were not produced by Hagenauer for Rena Rosenthal's shop. While Rohac had worked for Hagenauer, he built his own workshop in the late 1940s and his mark postdates that time. No object produced at the Workshop Hagenauer can legitimately bear the RR mark.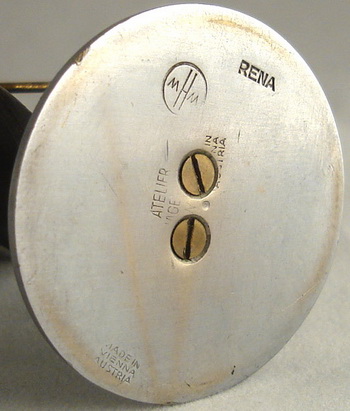 He served his apprenticeship at Würbel & Czokally, the Vienna gold- and silversmith company. He then became a journeyman with the master goldsmith Bernauer Samu in Pressburg (Bratislava). Carl Hagenauer was a trained chaser and master metal former. In his early years as a freelancer, he received orders for restoration work at the Esterhazy Palace. In 1898, he founded the Hagenauer Workshop in Vienna. He produced the so-called "Vienna Bronzeware" according to his own designs and those of others, and recast small sculptures of old masters. Carl increasingly embraced the modern age and produced metal goods designed by Josef Hoffmann, Otto Prutscher, and other Viennese artists. He was represented at numerous exhibitions, as in Paris, London and Berlin, where his awards resulted in increased exports of the workshop.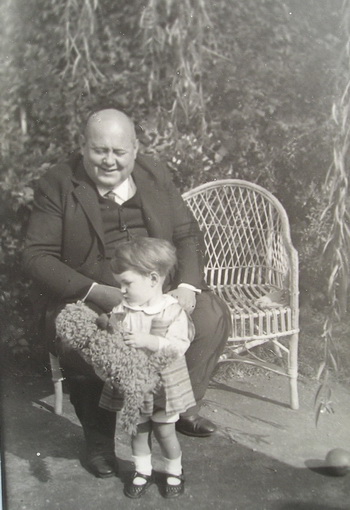 He studied at the School of Applied Arts in Vienna with the architects Josef Hoffmann and Oskar Strnad, and acquired his architect certificate. Josef Hoffmann recognized his great talent: "Karl Hagenauer has a very good understanding of form, his craftsmanship is very skilled;" he is "very gifted at drawing" and "very talented at design, and perfectly prepared technically." In the wake of Hoffman's conviction of Karl Hagenauer's talent, he commissioned him to execute objects for the Wiener Werkstätte. From 1917-1919 Karl did military service. In 1919 he joined his father's workshop, and was increasingly responsible for the commercial artworks. He created numerous works in silver, brass, copper, enamel, ivory, stone and wood which reveal the influence of Josef Hoffmann and the Wiener Werkstätte. After his father's death in 1928, Karl Hagenauer, with his brother Franz and sister Grete, led the company further and expanded it to include a woodworking shop and sales branches in Vienna and Salzburg. In the sales outlets he showed only the best household furnishings from abroad, in addition to his own work. He was awarded two gold medals for his work in the Triennale in Milan. Karl was a board member of the Austrian Werkbund and the Austrian Workshops in Vienna. He directed the Hagenauer workshop until his untimely death in 1956.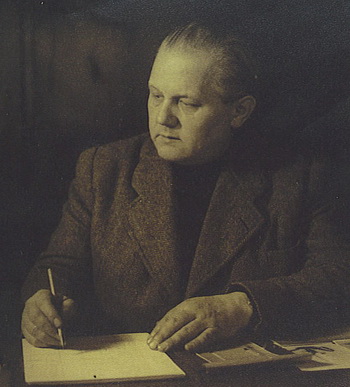 At the age of twelve he took Franz Cizek's course for teens at the School of Applied Arts in Vienna. From 1921 he studied sculpture under Anton Hanak and graduated, in addition, from the "workshop for metal forming" headed by Josef Hoffmann in his last academic year. Franz Hagenauer also was praised by his professors in the highest terms. Hoffmann called him "exceptionally gifted technically and artistically, very industrious and inventive." Even at this time (1925) he provided work for the exhibition space at the World Exhibition in Paris. From 1926, Franz worked as a metal former in his father's business, where he found his artistic fulfilment less in the creation of utility and decorative objects, than in his work as a sculptor. Early on, he created the later-famous big brass busts and figures, mostly done in sheet metal. It was only in the 1960s to 1980s that this design line gained increased recognition and aroused the interest of international art dealers. Franz Hagenauer became a member of the "Kunstschau" and took part in the 1934 Venice Biennale. A very important government commission was for the design and manufacture of large federal eagle in the Austrian Parliament. Other art objects, but also simple items of equipment (hardware, ashtrays, etc.), can be found in many public buildings. Franz was awarded the 1950 prize of the City of Vienna Applied Arts. In 1962 he was appointed Director of a Master Class for free forms in metal at the University of Applied Arts. Franz died in 1986. A year later, the Hagenauer workshop closed.